Linda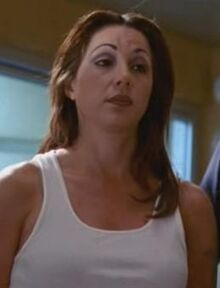 Appeared in
{{{Appearances}}}
Mentioned in
{{{Mentioned}}}
Linda was a woman that was arrested by Officer Ray Carlson and his partner.
Officer Carlson arrested Linda for crack possession while in her car. However, she managed to hide her stash inside her vagina. After they took her to the Barn, Carlson asked Officer Danny Sofer to search her. Danny told him to ask a rookie, but he told her she was the only female officer there. Danny then took Linda to the restroom and told her to bend over. Linda complained a bit, but Danny managed to take the stash out.
Later that day, when they were lining the prisoners, Linda saw Danny coming out of the restroom and asked her if she had gone to touch herself after touching her. However, Julien Lowe intervened to keep Linda shut.
Appearances
Edit
Ad blocker interference detected!
Wikia is a free-to-use site that makes money from advertising. We have a modified experience for viewers using ad blockers

Wikia is not accessible if you've made further modifications. Remove the custom ad blocker rule(s) and the page will load as expected.