Lex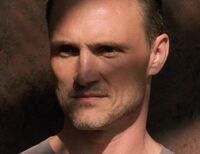 Appeared in
{{{Appearances}}}
Mentioned in
{{{Mentioned}}}
Lex was a military officer that also sold weapons illegally to the Byz Lats and the One-Niners.
Before Season 3
Edit
Lex made deals to sell illegal weapons to Garza, the leader of the Byz Lats, and Kern Little, of the One-Niners. At some point, he got ahold of 12 stolen cases of MP5's stolen from Fort Irwin. He then delivered them to the Byz Lats successfully.
Lex contacted Kern Little to go on with the gun purchase for the One-Niners. Lex went to Kern's nightclub and while they were in the middle of their deal, the police stormed in and arrested them. As they were taking Lex out, Vic pulled him away and started questioning him about his gun deal with the Byz Lats. When Lex refused to talk, Vic threatened to shoot him pretending he had tried to escape. As Vic put the gun on his face, Lex got scared and told them that a man called Garza was the one ordering the gun purchase.
Appearances
Edit
Ad blocker interference detected!
Wikia is a free-to-use site that makes money from advertising. We have a modified experience for viewers using ad blockers

Wikia is not accessible if you've made further modifications. Remove the custom ad blocker rule(s) and the page will load as expected.