Leah Madson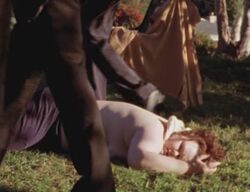 Appeared in
{{{Appearances}}}
Mentioned in
{{{Mentioned}}}
Leah Madson was an obese woman that had a blind date with Stu Kleinsausser.
A friend of Leah arranged a blind date for her with a co-worker called Stu Kleinsausser. Stu went to Leah's house at around 9:00pm to pick her up and took her to Fairview Park. While there, Stu tried to unhook her bra, but was unable to and ended up breaking the clasp. At some point, she also got out a chocolate bar and started to eat it, until Stu got so angry that he strangled her with her bra and left her body at the park. The next day, some teenagers smoking weed found Leah's body. Her purse and wallet were also found in the nearby bushes.
Appearances
Edit
Ad blocker interference detected!
Wikia is a free-to-use site that makes money from advertising. We have a modified experience for viewers using ad blockers

Wikia is not accessible if you've made further modifications. Remove the custom ad blocker rule(s) and the page will load as expected.