Lance Hinkle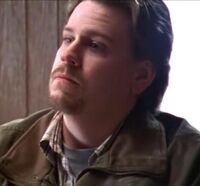 Appeared in
{{{Appearances}}}
Mentioned in
{{{Mentioned}}}
Lance Hinkle was the father of Patty Ann Hinkle.
Before Season 2
Edit
Hinkle had a gambling problem which had him in a lot of debts. This prompted him to take loans from Manny Sandoval, which he was unable to pay later. However, Manny made him an offer requesting him to kill another of his clients, Richard Cummings, in exchange for freeing his debts. Hinkle agreed and one night broke into Cummings house and shot him.
Some time later, Hinkle started attending Gamblers Anonymous.
Nine months after Richard Cummings death, Patty brought her father's gun to the "Guns for Toys" program at the Barn. This resulted in the gun being traced to Cummings murder. Detective Claudette Wyms and Dutch Wagenbach went looking for Hinkle and found him walking out of a Gamblers Anonymous meeting. They then took him to the Barn for questioning. In the interrogation, Claudette and Dutch presented Hinkle with the evidence and tried to establish a tie between him and Manny Sandoval.
After Claudette brought Manny for questioning, she convinced Hinkle to wear a wire while at the cage. When she finished questioning Manny, he put him in the cage next to Hinkle. Manny then approached Hinkle and threatened to kill his daughter if he didn't retract his statement. At this point, Claudette came in revealing that he was being recorded. As Lance was taken out of the cage, he pulled the wire out of his shirt.
Appearances
Edit
Ad blocker interference detected!
Wikia is a free-to-use site that makes money from advertising. We have a modified experience for viewers using ad blockers

Wikia is not accessible if you've made further modifications. Remove the custom ad blocker rule(s) and the page will load as expected.