Kurt Schmidt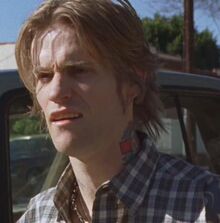 Appeared in
{{{Appearances}}}
Mentioned in
{{{Mentioned}}}
Profession
Editor, filmmaker
Kurt Schmidt was a film editor. He was also the maker of "Cherry Popper" films.
Before Season 1
Edit
Kurt Schmidt had worked on his "Cherry Popper" films with minors Sally Struthers and Sun-Lee. He had also taken them to Mrs. Park sex club to work as prostitutes.
As Detectives Dutch Wagenbach and Vic Mackey were looking for the murderer of Sally Struthers, they arrested sex club owner, Mrs. Park. She later confessed that Kurt Schmidt had taken Struthers to her club. Sun-Lee, one of Park's girl prostitutes, also told Mackey that Schmidt was the filmmaker she had worked for. Mackey met Schmidt outside his studio and arrested him. He then took him into the Barn and into the cage.
Appearances
Edit
Ad blocker interference detected!
Wikia is a free-to-use site that makes money from advertising. We have a modified experience for viewers using ad blockers

Wikia is not accessible if you've made further modifications. Remove the custom ad blocker rule(s) and the page will load as expected.