Jesus Rosales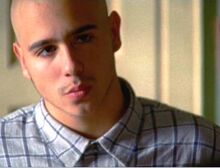 Appeared in
{{{Appearances}}}
Mentioned in
{{{Mentioned}}}
Jesus Rosales was a small-time member of The Toros. He was also a friend of Tony Nunez.
Before Season 1
Edit
Jesus had arrest warrants for drug possession and intent to sell them.
One night, Jesus was backing up his friend Tony Nunez as he did a drug deal. Shortly after the deal, Tony was run over by Ben Gilroy and dragged 75 feet. Jesus screamed at the car to stop and ran to help his friend but he had died already.
The next day, Jesus was hanging out with his girlfriend and other Toros friends when Detective Vic Mackey came to take him away. After a tense moment, Vic took him to a safehouse where he met with Ben Gilroy. Vic then convinced Jesus not to identify Ben as the one involved in the hit-and-run that killed his friend Tony. Reluctantly, Jesus agreed to the deal, but when Vic was about to give him his phone number, Ben abruptly shot him in the chest and killed him. When Vic asked him why he had done it, Ben told him he was too big of a liability to trust.
Vic and Gilroy decided to dump Jesus' body in Los Mags territory so his death would be written off as a gang hit.
Appearances
Edit
Ad blocker interference detected!
Wikia is a free-to-use site that makes money from advertising. We have a modified experience for viewers using ad blockers

Wikia is not accessible if you've made further modifications. Remove the custom ad blocker rule(s) and the page will load as expected.