Jamani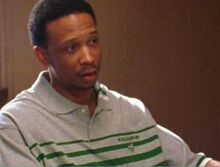 Appeared in
{{{Appearances}}}
Mentioned in
{{{Mentioned}}}
Jamani was a gun dealer who modified guns for customers.
Jamani was arrested by the Strike Team after they received a tip from Weed. He was interrogated by Detective Vic Mackey and Captain Monica Rawling. Jamani told them that two Nigerian thugs came up to him and asked him to modify a Beretta 92-F. Jamani told them he wouldn't modify it and the thugs started acting arrogant, calling him a "nigger." When the police brought a few mugshots, Jamani pointed out one of the thugs, a man named Ade Achebe.
Appearances
Edit
Ad blocker interference detected!
Wikia is a free-to-use site that makes money from advertising. We have a modified experience for viewers using ad blockers

Wikia is not accessible if you've made further modifications. Remove the custom ad blocker rule(s) and the page will load as expected.