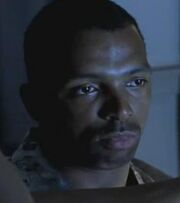 Jalil Jay Lynch
 played
Two-Time
on the pilot episode of
The Shield
.
Lynch is an acclaimed stuntman who has doubled for the likes of Jamie Foxx, Columbus Short, DB Woodside, Donald Faison, Ice T, Chris Tucker, DMX and numerous comedians such as Eddie Griffin. He also has performed numerous vehicular stunts and was the stunt coordinator for Showtime's hit show Sleeper Cell.
On The Shield, Lynch played the first seen victim of Mackey's gruesome crimes.
Ad blocker interference detected!
Wikia is a free-to-use site that makes money from advertising. We have a modified experience for viewers using ad blockers

Wikia is not accessible if you've made further modifications. Remove the custom ad blocker rule(s) and the page will load as expected.