Jaime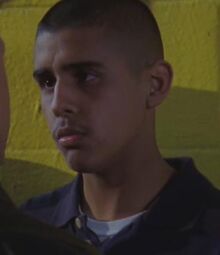 Appeared in
{{{Appearances}}}
Mentioned in
{{{Mentioned}}}
Jaime was a janitor at Nacho's gun club.
When Jaime was about to enter to work, he saw George Michael Klassen coming out of the gun club after killing eight people. Jaime went out to his friends and started bragging about having seen the killer. As the police started looking for him, a gang member called Detective Carlos Zamora and told him where Jaime was. Carlos, Vic Mackey, and Shane Vendrell found him and asked him what gang the killer belonged. Jaime laughed and told them that the killer didn't belong to a gang and that he was white. Jaime then described the killer to a sketch artist.
Appearances
Edit
Ad blocker interference detected!
Wikia is a free-to-use site that makes money from advertising. We have a modified experience for viewers using ad blockers

Wikia is not accessible if you've made further modifications. Remove the custom ad blocker rule(s) and the page will load as expected.