Irina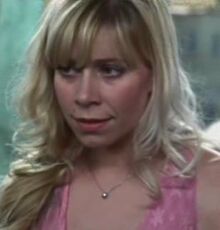 Appeared in
{{{Appearances}}}
Mentioned in
{{{Mentioned}}}
Irina was a prostitute that worked for Russian mobster Andrei Tretiak.
While the Strike Team tracked Tretiak, they saw him beating Irina. When Vic Mackey told Ronnie and Lem to capture Tretiak and his lieutenant, he also told them to bring Irina to serve as translator. They then took them to one of Tretiak's warehouses, tied him up, and rigged him with C-4. Irina then started hitting him in anger for all the beatings. After they pulled her off, they told her to translate for Tretiak as they questioned him about the murders of Officers Wayne Haimes and Carl Miller.
When Tretiak accidentally blew himself up, the Strike Team fled with Irina and Osip. While in the van, Irina translated for Osip as he told them how Tretiak was connected to the murders of Haimes and Miller.
Appearances
Edit
Ad blocker interference detected!
Wikia is a free-to-use site that makes money from advertising. We have a modified experience for viewers using ad blockers

Wikia is not accessible if you've made further modifications. Remove the custom ad blocker rule(s) and the page will load as expected.