Huell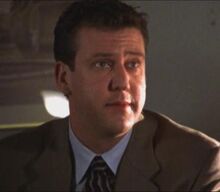 Appeared in
{{{Appearances}}}
Mentioned in
{{{Mentioned}}}
Huell was an attorney specialized in divorces, hired by Vic Mackey. He was introduced to Mackey by Gordie Liman.
Gordie Liman mentioned Vic Mackey the possibility of hiring Huell, when he thought that Corrine was planning to divorce Vic. Huell and Gordie went to Vic's apartment one night and he exposed to Vic the advantages he would have if he filed for divorce first.
After Corrine found out that Vic was sleeping with someone else, Huell met with Vic at the Barn. He told him that Corrine had subpoenaed his work file, froze their savings account and emptied the checking account. Wondering why she had reacted that way, Vic confessed to Huell what had happened the other night. Huell told him that would make his job tougher, but Vic insisted that all he wanted was to secure his time with the kids. When Vic told Huell that he was supposed to help Cassidy with a science project, Huell told him it was ok to do so, if it was accorded previously.
Appearances
Edit
Ad blocker interference detected!
Wikia is a free-to-use site that makes money from advertising. We have a modified experience for viewers using ad blockers

Wikia is not accessible if you've made further modifications. Remove the custom ad blocker rule(s) and the page will load as expected.