Herman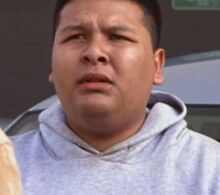 Appeared in
{{{Appearances}}}
Mentioned in
{{{Mentioned}}}
Herman was an informant of Vic Mackey. He also ran a gambling joint near MacArthur Park in the back of a store called Morty's Sporting Goods.
When Vic Mackey was trying to find out information about who had killed Claudette's ex-husband, he contacted Herman. He then showed up outside the Barn. When Vic asked him for any information, he offered to stay out of his gambling business in exchange for it. Herman then told Vic and Shane that after Armadillo Quintero and the Torrucos were taken out of circulation, other gangs were trying to seize the business. He told them that the E-Park Johnnies were one of the gangs trying to do so. As he was talking, he dropped a bag of marihuana from his pocket. Vic quickly told him to pick it up as he and Shane tried to cover it. Herman went on telling them that the Johnnies were throwing some sort of April Fool's party to establish their position.
Appearances
Edit
Ad blocker interference detected!
Wikia is a free-to-use site that makes money from advertising. We have a modified experience for viewers using ad blockers

Wikia is not accessible if you've made further modifications. Remove the custom ad blocker rule(s) and the page will load as expected.