Heidi Prue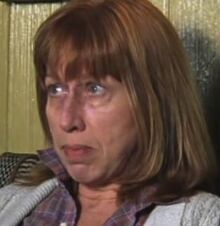 Appeared in
{{{Appearances}}}
Mentioned in
{{{Mentioned}}}
Heidi Prue was the wife of Gill Prue. Gill used to beat her. She was also a recovering alcoholic.
Before Season 4
Edit
Heidi's husband, Gill, had been in prison several times for anger management problems. This resulted in him being fired and beating Heidi regularly. Because of this, Heidi became an alcoholic. After some time, she started visiting Alcoholics Anonymous.
When Heidi's husband got out of prison, he returned home and sold her car for $8,700 to use the money for fake IDs. During an Alcoholics Anonymous meeting, Heidi talked about how Gill wanted to get a fake ID. Francis approached her in the parking and told her of someone called Nokey that could help him. She then told Gill about it.
When Gill Prue was found dead, Heidi was brought to the Barn for questioning. When Detective Dutch Wagenbach implied she might've hired someone to kill her husband, she told them about the conversation she had with Francis Valverde.
Appearances
Edit
Ad blocker interference detected!
Wikia is a free-to-use site that makes money from advertising. We have a modified experience for viewers using ad blockers

Wikia is not accessible if you've made further modifications. Remove the custom ad blocker rule(s) and the page will load as expected.