Hector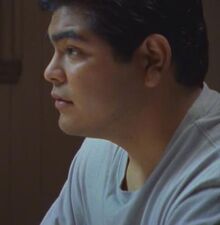 Appeared in
{{{Appearances}}}
Mentioned in
{{{Mentioned}}}
Profession
Gas station clerk
You may be looking for Hector Estanza, a gang member of Los Magnificos.
Hector was a gas station clerk that served as a potential witness in the murder of Sally Struthers.
After the murder of Sally Struthers, Hector went to the Barn claiming he had seen the suspect green car. As Detective Dutch Wagenbach interrogated him, he told him that the suspicious white guy paid $20 but only pumped $17 and left. He also told Dutch that the man didn't want him to see his face. When Dutch asked him if he had kept the $20 bill for fingerprints, he said that he didn't but that he kept the $3 change. When Dutch argued that the man had never touched it, Hector told him that it was his change and that it should work for something.
Appearances
Edit
Ad blocker interference detected!
Wikia is a free-to-use site that makes money from advertising. We have a modified experience for viewers using ad blockers

Wikia is not accessible if you've made further modifications. Remove the custom ad blocker rule(s) and the page will load as expected.