Halpern White
Appeared in
{{{Appearances}}}
Mentioned in
{{{Mentioned}}}
Halpern White is the second in command of the One-Niners gang under Antwon Mitchell.
Halpern was a go-between for the gang leader and the cops when Shane Vendrell and Army Renta started their relationship with Antwon. When he threatened to report their relationship, Shane and army badly beat him. White would return the beating when Antwon's thugs jumped them and killed Angie while Shane's and Army's guns. Later, when trying to get White to overthrow Antwon, he was accidentally shot in the shoulder by Army and spend some time in the hospital. He recovered and eventually worked as an informant for the Strike Team.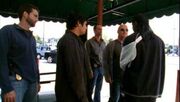 Appearances
Edit
Ad blocker interference detected!
Wikia is a free-to-use site that makes money from advertising. We have a modified experience for viewers using ad blockers

Wikia is not accessible if you've made further modifications. Remove the custom ad blocker rule(s) and the page will load as expected.