Haley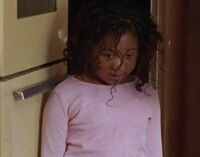 Appeared in
{{{Appearances}}}
Mentioned in
{{{Mentioned}}}
Haley was a little girl that lived in a trailer park in Los Angeles.
While Lem was hiding at a trailer park, he heard a kid crying. He went over a trailer and knocked on the door. When no one answered, he entered and found Wendell bleeding from his hand and crying. His little sister, Haley, told Lem his name as he tried to help him. In this moment, a man named George arrived and when he saw Lem's gun told his wife to call the police. Lem then put a cloth over Wendell's hand and left.
Appearances
Edit
Ad blocker interference detected!
Wikia is a free-to-use site that makes money from advertising. We have a modified experience for viewers using ad blockers

Wikia is not accessible if you've made further modifications. Remove the custom ad blocker rule(s) and the page will load as expected.