Hagop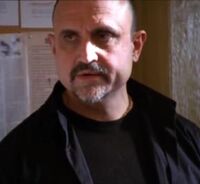 Appeared in
{{{Appearances}}}
Mentioned in
{{{Mentioned}}}
Hagop was a member of the Armenian Mafia and one of Alex Eznik's top associates.
Hagop was at Alex Eznik's club when Detectives Vic Mackey and Shane Vendrell brought the diamonds that Hrach had stolen from him. Mackey made a deal with Eznik where he was supposed to kill Hrach, which he pretended to do. When Mackey offered Eznik information on possible raids on his businesses, Eznik sent Hagop to the Barn with him to corroborate the raids with the addresses of their businesses. As insurance, Eznik requested Shane to remain at his club while Hagop went with Mackey.
When they arrived at the Barn, Hagop gave Mackey the addresses of each of Eznik businesses, among them, the address of a chop shop in Newman and a cigarette storage on 4103 Merrick. When they were about to finish, Hagop, hesitantly gave him the address of a last place in 9210 Escovida. While Mackey corroborated each of the addresses in the computer, Hagop saw Hrach alive as he was being transferred to a cell. Realizing that Mackey was playing them, Hagop tried to contact Eznik, but Vic attacked him before he could call his boss.
Appearances
Edit
Ad blocker interference detected!
Wikia is a free-to-use site that makes money from advertising. We have a modified experience for viewers using ad blockers

Wikia is not accessible if you've made further modifications. Remove the custom ad blocker rule(s) and the page will load as expected.