Gilbos Arkelian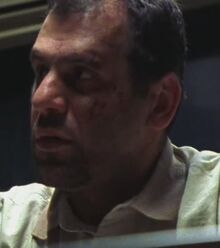 Appeared in
{{{Appearances}}}
Mentioned in
{{{Mentioned}}}
Gilbos Arkelian was a taxi driver that worked around Farmington. He owned a green cab.
Gilbos stopped to pick up Tori Burke when she flagged him. She then offered him sex for $100. After she picked out a motel, they went there and after Gilbos got undressed, two black associates of Burke came in and stole his wallet and a gold chain.
When he spotted Tori later on the street, he stopped and started hitting her. Although he got away, the owner of a store saw him and identified him to the detectives. Gilbos was arrested and brought to the Barn for questioning where he finally accepted attacking Tori but because she had robbed him first.
When Tori's boyfriend, Tyrez Wallace, arrived at the Barn, Gilbos couldn't identify him as one of the black men that attacked him.
Appearances
Edit
Ad blocker interference detected!
Wikia is a free-to-use site that makes money from advertising. We have a modified experience for viewers using ad blockers

Wikia is not accessible if you've made further modifications. Remove the custom ad blocker rule(s) and the page will load as expected.