Gary Parsons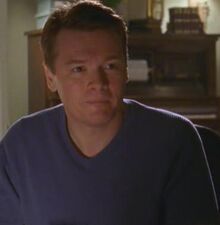 Appeared in
{{{Appearances}}}
Mentioned in
{{{Mentioned}}}
Gary Parsons was a "reoriented" gay man that counseled Julien Lowe.
Before Season 1
Edit
Gary had homosexual feelings, but fought them because of his Christian beliefs. At one point, he went through sexual reorientation therapy to fight his homosexual urges. After that, he got married. His wife was expecting a child.
When Julien Lowe confessed to his reverend his homosexual feelings, he introduced him to Gary Parsons. Gary had gone through sexual reorientation therapy to eliminate his homosexual urges. Gary told him about his testimony to convince Julien to go through the program.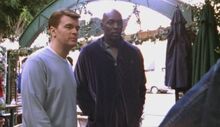 Gary accompanied Julien to a sidewalk cafe, to meet with Tomas Motyashik. Julien introduced Gary as his sponsor and then told Tomas that they couldn't see each other, so he should stop trying to contact him. Angered by Gary's presence, Tomas told them both that they couldn't hide the fact that they were gays. Gary tried to keep him away and told Tomas that Julien had been very clear. Tomas then hit Gary in the face, cutting his eye with one of his rings. As Tomas ran away, Gary's eye began to bleed profusely.
Julien took Gary to Mission Cross Hospital where he was treated. Later that night, Officers Ray Carlson and Paul Jackson told Julien that the doctors had said Gary's vision was still "blurry" and it was possible that the damage to his eye could be permanent.

Appearances
Edit
| | |
| --- | --- |
| Season 1 | Pilot · Our Gang · The Spread · Dawg Days · Blowback · Cherrypoppers · Pay in Pain · Cupid & Psycho · Throwaway · Dragonchasers · Carnivores · Two Days of Blood · Circles · |
| | |
| --- | --- |
| Season 2 | The Quick Fix · Dead Soldiers · Partners · Carte Blanche · Greenlit · Homewrecker · Barnstormers · Scar Tissue · Co-Pilot · Coyotes · Inferno · Breakpoint · Dominoes Falling · |
Ad blocker interference detected!
Wikia is a free-to-use site that makes money from advertising. We have a modified experience for viewers using ad blockers

Wikia is not accessible if you've made further modifications. Remove the custom ad blocker rule(s) and the page will load as expected.