Gallagher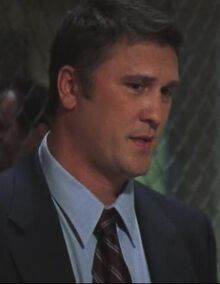 Appeared in
{{{Appearances}}}
Mentioned in
{{{Mentioned}}}
Gallagher was a DEA agent that worked in Farmington.
Agent Gallagher and the DEA were running a sting operation against the Salvadoran gang in Farmington using a travel agency as a cover. When the Salvadorans bombed a DEA parking lot with grenades, Agent Gallagher visited and talked with Captain Claudette Wyms and the Strike Team, advising them not to interfere with their investigation.
Later, when the Strike Team intercepted the Salvadorans that were smuggling the grenades, Vic Mackey called Gallagher for reinforcement, but they were busy with another sting operation in Compton. Mackey and the Strike Team proceeded alone and arrested the Salvadorans.
That night, Gallagher went to the Barn to congratulate Mackey and Wyms on the arrests.
Appearances
Edit
Ad blocker interference detected!
Wikia is a free-to-use site that makes money from advertising. We have a modified experience for viewers using ad blockers

Wikia is not accessible if you've made further modifications. Remove the custom ad blocker rule(s) and the page will load as expected.