Gabo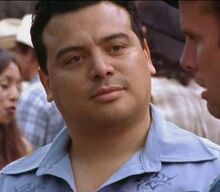 Appeared in
{{{Appearances}}}
Mentioned in
{{{Mentioned}}}
Profession
Cock fight runner
Gabo was a runner of illegal cock-fights.
Gabo was running a round of illegal cock-fights at his place when the Strike Team broke in to arrest one of his guests. As Gabo was about to be taken away, he offered to hand them Pazi Arambula in exchange of his freedom. Detective Vic Mackey agreed because Pazi was also a gun dealer. Gabo then coached Detective Shane Vendrell on cock-fighting techniques so he could meet Pazi. Gabo was held at the Barn until the time of the meeting. Gabo then took Shane to the Dos Días de Sangre cock-fight festival, where he introduced him to Pazi.
Appearances
Edit
Ad blocker interference detected!
Wikia is a free-to-use site that makes money from advertising. We have a modified experience for viewers using ad blockers

Wikia is not accessible if you've made further modifications. Remove the custom ad blocker rule(s) and the page will load as expected.