Frogger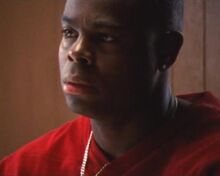 Appeared in
{{{Appearances}}}
Mentioned in
{{{Mentioned}}}
Also known as
Frogger, Froggy
Freddy Germaine, known as Frogger, was Dante Fell's "quarter brother".
Before Season 2
Edit
When Frogger was a child, his father lived with Dante Fell's mother for some time. When he abandoned them, Dante's mother raised Frogger too.
Frogger usually paid his apartment rent a bit late, but not enough for the manager to take him out.
When Ursula Hayes' was about to give birth to Dante's first child, he told Frogger about it. Some days after, Frogger found out that the police was looking for him so he hid in an apartment in Collin Greens. Despite this, the Strike Team managed to find him and arrest him. They then took him to the Barn for questioning.
Appearances
Edit
Ad blocker interference detected!
Wikia is a free-to-use site that makes money from advertising. We have a modified experience for viewers using ad blockers

Wikia is not accessible if you've made further modifications. Remove the custom ad blocker rule(s) and the page will load as expected.