Frances Housely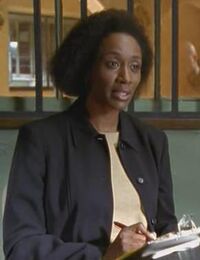 Appeared in
{{{Appearances}}}
Mentioned in
{{{Mentioned}}}
Frances Housely was an Internal Affairs detective for the Los Angeles Police Department. She was assigned the investigation on the murder of Detective Terry Crowley where she concluded that Crowley was killed by Two-Time.
She later returned to the Barn to investigate the alleged theft of cocaine by the members of the Strike Team. However, the case was dismissed when the only witness, Officer Julien Lowe, recanted his testimony.
After the murder of Terry Crowley, Housely came to the Barn to head the investigation. As part of it, she interviewed the members of the Strike Team, particularly Detectives Vic Mackey and Shane Vendrell. During her interrogation, she inquired as to how they felt about Terry being an outsider. She later gave a preliminary report to Assistant Chief Ben Gilroy and Captain David Aceveda where she concluded that Crowley had died as a result of a gunfight with drug dealer Two-Time.
When Julien Lowe told David Aceveda he wanted to testify against the Strike Team for stealing cocaine from a crime scene, Housely was brought back in to take Julien's statement. She also took the statement of Deena, a car thief that had taken the cocaine bricks out of the Strike Team car. After doing so, she reported to Aceveda and Ben Gilroy. As they pondered how to deal with the issue, she assured them she would control the leaks in IAD.
Appearances
Edit
| | |
| --- | --- |
| Season 1 | Pilot · Our Gang · The Spread · Dawg Days · Blowback · Cherrypoppers · Pay in Pain · Cupid & Psycho · Throwaway · Dragonchasers · Carnivores · Two Days of Blood · Circles · |
Ad blocker interference detected!
Wikia is a free-to-use site that makes money from advertising. We have a modified experience for viewers using ad blockers

Wikia is not accessible if you've made further modifications. Remove the custom ad blocker rule(s) and the page will load as expected.