Evette Montano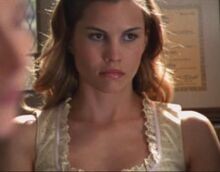 Appeared in
{{{Appearances}}}
Mentioned in
{{{Mentioned}}}
Evette Montano was a 17-year old teenager that worked at Bruce Rosen's store.
One night, Evette stayed with Bruce Rosen to help him close the store. At one point, Evette sexually approached Bruce and they ended up having sex. During intercourse, Bruce wore a condom. When they finished, Bruce walked Evette to her car. The next day, Evette and her mother tried to blackmail Bruce for $5,000 threatening to go to the head office or the authorities with allegations of rape if he didn't pay.
When Bruce was unable to pay, Evette and her mother went to the Barn and reported that Bruce had raped her. Detectives Claudette Wyms and Dutch Wagenbach took the case, and Claudette took Evette for a medical examination. When it was finished, Evette confessed to Claudette that she had also had sex with her boyfriend, but she was afraid to tell her mother because she thought she was a virgin.
Appearances
Edit
Ad blocker interference detected!
Wikia is a free-to-use site that makes money from advertising. We have a modified experience for viewers using ad blockers

Wikia is not accessible if you've made further modifications. Remove the custom ad blocker rule(s) and the page will load as expected.