Emma Prince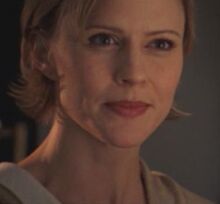 Appeared in
{{{Appearances}}}
Mentioned in
{{{Mentioned}}}
Emma Prince was the director of a shelter for abused women in Farmington.
Before Season 2
Edit
At some point, Emma was victim of domestic abuse. When it happened, someone helped her to go through that rough time. This inspired her to open a shelter for abused women in Farmington.
Emma prepared a 1-800 number for abused women to call. Whenever someone did, she would have them picked up without revealing their location. At the shelter, Miss Henry would keep the records and identities of the women in a computer.
Emma had six women staying at the shelter, including Julie Holden and Miss Henry. One day, she picked up a prostitute called Dorea Pinchuk. She usually didn't pick up prostitutes but Dorea assured her that her pimp would kill her. That night, Emma went out to pick up some clothing donations leaving all seven women and their children alone. When she returned, she found the police at the place because someone had broke in killing six of the women, except for Dorea.
As she went to the Barn for a statement, she asked Detective Vic Mackey what was she supposed to do now, since she had two women coming that night. Vic assured her he would help her and managed to settle her in a witness house. The following night, Vic stopped by the shelter and brought some groceries to them. Emma thanked her for it.
Some days after, Vic brought an abused woman to Emma to see if she could help her. When Emma saw that the woman was still attached to her abusive boyfriend and didn't want to press charges, she told Mackey that she wasn't ready to get help yet. Mackey insisted, but Emma told her that he couldn't force someone to get help. Vic then went to the woman's house to get some clothes.
Appearances
Edit
* voice only
Ad blocker interference detected!
Wikia is a free-to-use site that makes money from advertising. We have a modified experience for viewers using ad blockers

Wikia is not accessible if you've made further modifications. Remove the custom ad blocker rule(s) and the page will load as expected.