Emerich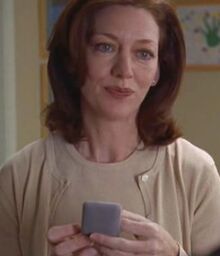 Appeared in
{{{Appearances}}}
Mentioned in
{{{Mentioned}}}
Profession
School director
Ms. Emerich was the school director of Glenridge, a special school that treated autistic children. Ms. Emerich had a daughter.
Before Season 1
Edit
At some point, burglars broke into Emerich's house and stole some jewelry, including a ring that had belonged to her mother. She had plans of giving it to her daughter some day. Emerich filed a report but it was shelved due to low priority.
Vic and Corrine Mackey visited Glenridge as they were choosing schools for their son Matthew. Ms. Emerich gave them a tour of the school and told them all the advantages of it. As she left them to decide, she reminded them that they had only one spot open and that they should choose quickly.
Some time later, Ms. Emerich met with Corrine and Vic and told them that they had to put Matthew on a wait-list. Corrine asked her why, after she had told them he had been accepted. Ms. Emerich told them that the board had reviewed their application and decided not to accept Matthew after seeing the article about Vic and the Strike Team allegedly stealing drugs. They told her that the accusations were false and that the charges had been dropped, but she apologized.
After that, Vic asked Ronnie Gardocki and Shane Vendrell to look for anything illegal on her that he could use as leverage. However, they told him that the only police file they found on her was about a burglary she had reported a month ago. Vic looked at the file and then approached Emerich telling her he could help her find the ring. Vic and Ronnie then managed to find the ring through Felipe, a pawn shop owner Vic knew.
Vic then visited Emerich and brought her the ring. She was very grateful and asked Vic how she could thank him. Vic told her that she knew how and she accepted to have Matthew in the school.
Appearances
Edit
| | |
| --- | --- |
| Season 1 | Pilot · Our Gang · The Spread · Dawg Days · Blowback · Cherrypoppers · Pay in Pain · Cupid & Psycho · Throwaway · Dragonchasers · Carnivores · Two Days of Blood · Circles · |
| | |
| --- | --- |
| Season 3 | Playing Tight · Blood and Water · Bottom Bitch · Streaks and Tips · Mum · Posse Up · Safe · Cracking Ice · Slipknot · What Power Is... · Strays · Riceburner · Fire in the Hole · All In · On Tilt · |
Ad blocker interference detected!
Wikia is a free-to-use site that makes money from advertising. We have a modified experience for viewers using ad blockers

Wikia is not accessible if you've made further modifications. Remove the custom ad blocker rule(s) and the page will load as expected.