Ellen Carmichael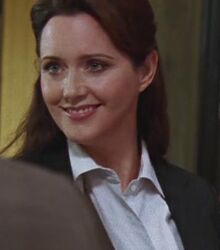 Appeared in
{{{Appearances}}}
Mentioned in
{{{Mentioned}}}
Ellen Carmichael was an attorney that represented Detective Steve Billings.
Carmichael represented Billings in his lawsuit against the Los Angeles Police Department, after he hit his head trying to stop a fight at the Barn. Although his lawsuit was dismissed, Billings still received back-pay for the two days of work he missed.
However, the department later threatened to countersue unless Billings proved that the physical damages he claimed were true. Carmichael went to the Barn to request Dutch Wagenbach to rewrite a statement Billings had asked of him testifying to his impairment due to the injury. Since Dutch knew Billings was exaggerating the seriousness of his injury, Dutch's statement wasn't very helpful.
After some talk, Carmichael convinced Dutch to change his statement to one more favorable to Billings. She later gave Dutch her card in case he wanted to call her.
Steve Billings referred to her as a "bitch-dyke" because, according to her, he flirted with her and she rejected him.
Appearances
Edit
Ad blocker interference detected!
Wikia is a free-to-use site that makes money from advertising. We have a modified experience for viewers using ad blockers

Wikia is not accessible if you've made further modifications. Remove the custom ad blocker rule(s) and the page will load as expected.