Eduardo Salcido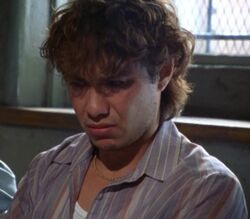 Appeared in
{{{Appearances}}}
Mentioned in
{{{Mentioned}}}
Eduardo Salcido was a Mexican immigrant that worked at Jamison Contracting.
Before Season 1
Edit
Eduardo and Manuel Ruiz were best friends in Mexico. They even came to the United States illegally together in a truck. After they settled, they started working construction and similar jobs. However, according to witnesses, after they arrived they weren't friends anymore. Allegedly, Eduardo said several times that he hated Manuel and that he wanted to kill him.
One morning, Eduardo and Manuel were picked to work in front of a home improvement center in Farmington by a Mr. Jamison, from Jamison Contracting. As they were carrying an air conditioning unit on a roof, Manuel fell and died. Not wanting to have his permission revoked or the work halted, Jamison convinced Eduardo that Manuel's death had been his fault and, since they were both illegal, he should keep his mouth shut.
When Detectives Dutch Wagenbach and Claudette Wyms started asking for Manuel, they found Eduardo who initially fled. Eventually, they arrested him and he was taken to the Barn. During interrogation, Eduardo confessed what happened with Jamison. Dutch and Claudette convinced him that Manuel's death wasn't his fault and then they went to Jamison's grounds to get Manuel's body. When Jamison found out that Eduardo had told them about it, he was angry and tried to attack him.
Appearances
Edit
Ad blocker interference detected!
Wikia is a free-to-use site that makes money from advertising. We have a modified experience for viewers using ad blockers

Wikia is not accessible if you've made further modifications. Remove the custom ad blocker rule(s) and the page will load as expected.