Donzell Prince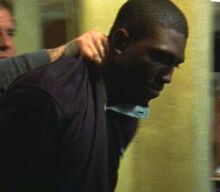 Appeared in
{{{Appearances}}}
Mentioned in
{{{Mentioned}}}
Donzell "Urkel" Prince was a member of the One-Niners who earned his status by selling guns to the gang.
In order to fool the public into thinking that the killer had been caught, Monica Rawling sanctioned the Strike Team to pick up Urkel and arrested him for a stolen weapons charge. However, he had nothing to do with the cop killings and Dutch Wagenbach was forced to lie during a press conference saying he was the one who slain the officers.
Appearances
Edit
Ad blocker interference detected!
Wikia is a free-to-use site that makes money from advertising. We have a modified experience for viewers using ad blockers

Wikia is not accessible if you've made further modifications. Remove the custom ad blocker rule(s) and the page will load as expected.