Derrick Tripp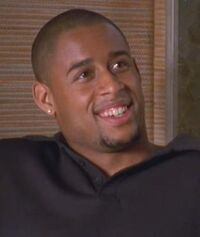 Appeared in
{{{Appearances}}}
Mentioned in
{{{Mentioned}}}
Profession
Basketball player

Derrick Tripp was a basketball player for the New Jersey team on the NBA. He had a $15 million contract with his team as well as deals with sponsors. He had also won the Rookie of the Year award. Tripp charged $150 for an autograph.
Tripp was friends with Virgil Lewis before he became a famous player. He also had girlfriends in different cities, like Los Angeles and Seattle.
Derrick Tripp was arrested by the Strike Team when he was visiting Virgil Lewis. His team was in Los Angeles for a game against the Lakers, so Vic Mackey decided to illegally keep him under custody so the Lakers could win the game, as they each placed bets on it. They did so by telling him that their captain would meet them in an apartment to sort things out so the media wouldn't find out about his arrest.
During the time he was held in custody, they made him sign autographs on basketballs. When he insisted on leaving to meet a girlfriend, they let him call her so she could come. When Adriana came to the apartment they were in, they kissed and then had sex. After she left, Derrick and Shane Vendrell almost got in a fight until Lem and Ronnie intervened. He then figured that they were not telling the truth and asked to be released. Mackey then drove him to a subway station far from the Staples Center and told him to take the subway.
Since he didn't arrive on time to the game, New Jersey lost to Los Angeles on the game. Tripp's absence from the game was explained in the news as being caught in traffic while returning from a charity event.
Appearances
Edit
Ad blocker interference detected!
Wikia is a free-to-use site that makes money from advertising. We have a modified experience for viewers using ad blockers

Wikia is not accessible if you've made further modifications. Remove the custom ad blocker rule(s) and the page will load as expected.