Cyrus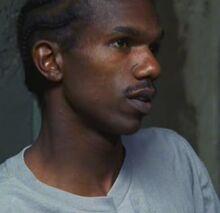 Appeared in
{{{Appearances}}}
Mentioned in
{{{Mentioned}}}
Cyrus was a neighbor of Farmington and a client of Igal.
Before Season 1
Edit
Cyrus had a scam where he would buy a cell phone with a wireless company, sell it to Igal, and then report it missing. He did it with seven wireless companies.
When a bogus 911 call lured Officers Rudy and Paula into an ambush, the call was traced to one of Cyrus' old phones. Detective Vic Mackey and the Strike Team arrested him at his apartment and brought him to the Barn. Captain David Aceveda and Detective Claudette Wyms interrogated him, and he first alleged that he had lost the cell phone. As they investigated further, they found out about his scam with Igal and pressed on him about it. He then confessed about it and gave them Igal's name.
Appearances
Edit
Ad blocker interference detected!
Wikia is a free-to-use site that makes money from advertising. We have a modified experience for viewers using ad blockers

Wikia is not accessible if you've made further modifications. Remove the custom ad blocker rule(s) and the page will load as expected.