Cuca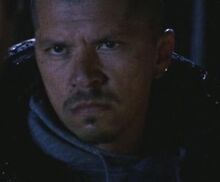 Appeared in
{{{Appearances}}}
Mentioned in
{{{Mentioned}}}
Profession
Gang lieutenant
Cristopher Reyes, known as Cuca was a high gang member of The Toros.
Before Season 2
Edit
Armadillo Quintero visited Cuca and told him he could join him or he'd die. During his visit, Armadillo kept looking at Mayda, Cuca's little sister. Some time later, Armadillo approached Cuca again while he was walking with his girlfriend, Jessica Hintel. Armadillo asked him if he had changed his mind, but Cuca refused to join him. Armadillo kidnapped Jessica, raped her, and tattooed a dove on his face, so she could remember him. When Cuca saw the tattoo, he called her a whore and never touched her again.
Two weeks after Armadillo raped Jessica, he captured Cuca and took him to an abandoned field. There, Armadillo's men tied him to a wooden pole with tires and gasoline over his body. Armadillo then used a lighter to burn him by firenecklace along with Bang-Bang, a lieutenant for Los Mags. The police found their bodies the next day.
Appearances
Edit
Ad blocker interference detected!
Wikia is a free-to-use site that makes money from advertising. We have a modified experience for viewers using ad blockers

Wikia is not accessible if you've made further modifications. Remove the custom ad blocker rule(s) and the page will load as expected.