Cesar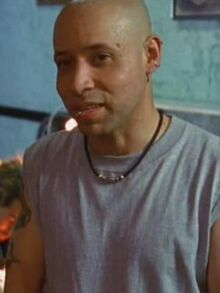 Appeared in
{{{Appearances}}}
Mentioned in
{{{Mentioned}}}
Cesar was a tattoo artist and an informant of Vic Mackey.
When an assaulted truck driver identified the tattoos of his attackers, Detective Vic Mackey went to Cesar's tattoo parlor to see if he knew who they belonged to. At the moment, Cesar was finishing some genital piercing on two newlyweds, but he stopped for a moment to talk to Vic. After seeing the tattoo, he told Vic it wasn't his work. When Vic gave him some background of the attackers, Cesar told him he would make some calls and inform him what he finds. Cesar later called Vic and told him that one of the tattoos belonged to Hector Estanza.
Later, Vic Mackey returned to Cesar's parlor and asked him to make a temporary tattoo like the one from Hector Estanza.
Appearances
Edit
Ad blocker interference detected!
Wikia is a free-to-use site that makes money from advertising. We have a modified experience for viewers using ad blockers

Wikia is not accessible if you've made further modifications. Remove the custom ad blocker rule(s) and the page will load as expected.