Camara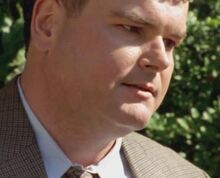 Appeared in
{{{Appearances}}}
Mentioned in
{{{Mentioned}}}
Camara was a Los Angeles Police Department detective working at the Wilshire precinct.
Detective Camara was sent to the crime scene where Barbara and Jeff Hisk had been murdered. After inspecting the scene, he stood outside the house talking with the police officers. When Detective Vic Mackey arrived with a couple of officers, he tried to stop them from coming inside. However, Vic pleaded to him since they wanted to help find the killer. Camara took him and Officer Julien Lowe inside and told them what had happened. He then led them back outside. When Vic asked him if they had checked a crack house that was nearby, Camara told him they had knocked but nobody answered.
Some minutes later, Vic returned and asked Camara to have another look. However, he refused to since his captain could come anytime. Vic pulled him away to plead again, while Julien sneaked behind him to look for a paper where Barbara might've wrote information about burglars and addicts in the neighborhood. When Julien walked away, Vic left Camara alone and thanked him for his help.
Appearances
Edit
Ad blocker interference detected!
Wikia is a free-to-use site that makes money from advertising. We have a modified experience for viewers using ad blockers

Wikia is not accessible if you've made further modifications. Remove the custom ad blocker rule(s) and the page will load as expected.