Booty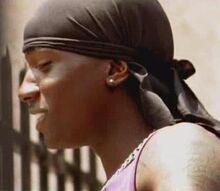 Appeared in
{{{Appearances}}}
Mentioned in
{{{Mentioned}}}
Booty was a drug dealer that worked at Farmington.
Booty was dealing drugs in front of a store in Farmington. When the Strike Team arrived, he ran while swallowing the drugs. After running inside a market, Vic Mackey and the Strike Team trapped him in a back alley. Booty teased Mackey for being late since he had swallowed the drugs, but Mackey punched him in the stomach and made him spit them. Mackey then stripped him and used a pair of pliers to injure him before taking him into the Barn.
Appearances
Edit
Ad blocker interference detected!
Wikia is a free-to-use site that makes money from advertising. We have a modified experience for viewers using ad blockers

Wikia is not accessible if you've made further modifications. Remove the custom ad blocker rule(s) and the page will load as expected.