Bernard Grady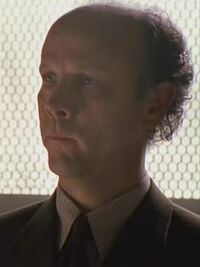 Appeared in
{{{Appearances}}}
Mentioned in
{{{Mentioned}}}
Bernard Grady was a doctor and pedophile that bought young girls on the Internet.
Dr. Grady contacted George Sawyer through the Internet and Sawyer sold him Jenny Reborg in exchange for another girl. Grady then had Jenny locked in a secret basement at his house. When Sawyer testified, Grady was brought to the Barn for questioning but denied all the charges. As time ran out, Captain David Aceveda pulled Dutch and Claudette from questioning and brought Vic Mackey in. Mackey then tortured Grady until he surrendered Jenny's location.
On a deleted scene, we see Dutch going into the interrogation room to check on Dr. Grady. Dutch finds Grady crying in the corner of the room, and sees that he has urinated on himself.
Appearances
Edit
Ad blocker interference detected!
Wikia is a free-to-use site that makes money from advertising. We have a modified experience for viewers using ad blockers

Wikia is not accessible if you've made further modifications. Remove the custom ad blocker rule(s) and the page will load as expected.