Anthony Nunez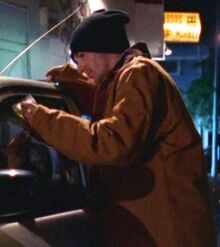 Appeared in
{{{Appearances}}}
Mentioned in
{{{Mentioned}}}

Anthony Nunez was a small-time dealer of The Toros. He was nicknamed Tony.
Season 1
Edit
Anthony was seen briefly at night dealing his drugs to one of his customers. His partner, Jesus Rosales watched him to make sure the deal went well. Shortly after the car drove away, Anthony was run over by another car driven by Ben Gilroy, and dragged 75 feet. Although he went to go check on him, Jesus fled the scene. Anthony died almost instantly.
Appearances
Edit
Ad blocker interference detected!
Wikia is a free-to-use site that makes money from advertising. We have a modified experience for viewers using ad blockers

Wikia is not accessible if you've made further modifications. Remove the custom ad blocker rule(s) and the page will load as expected.