Andy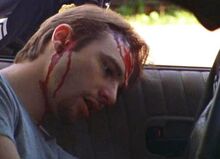 Appeared in
{{{Appearances}}}
Mentioned in
{{{Mentioned}}}
Andy was a web page designer and the husband of Brenda. They had a daughter together.
Before Season 1
Edit
Andy and Eric went to college together. When they both lost their jobs, they started looking for ways to make money. Eventually, they got money from loan shark Manny Sandoval and they built a "home lab" to start cooking methamphetamine. He used the figure of "Cupid" from his daughter's rubber stamp kit to label their meth as "Cupid meth".
After Manny threatened Andy's partner Eric and his brother to speed up the meth, Eric began to work furiously to fix the drugs for him. During the process, the lab he was in exploded. Paul and Andy saw how badly he was injured and, knowing he wouldn't survive, planned to dump his body in the desert to die. Andy rushed down the city in his car, attracting attention from local police squadrons, and crashed his car. Andy died on impact.
According to his wife, Andy was a web page designer and she had no idea of his drug dealings. She assumed he began drug dealing after the company he and Eric worked for went bankrupt.
Appearances
Edit
Ad blocker interference detected!
Wikia is a free-to-use site that makes money from advertising. We have a modified experience for viewers using ad blockers

Wikia is not accessible if you've made further modifications. Remove the custom ad blocker rule(s) and the page will load as expected.