Adam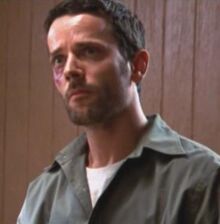 Appeared in
{{{Appearances}}}
Mentioned in
{{{Mentioned}}}
Adam was a pedophile that lived in Farmington.
Adam used to pick up homosexuals in Doverson. One night, he picked up Jeffrey Cole and offered him $20 for oral sex. They went behind a grocery store, but Jeffrey ended up drawing a knife on Adam to steal his wallet. When he gave it to him, Jeffrey also hit Adam in the eye. The next day, Detective Vic Mackey and the Strike Team arrested Adam as he was walking out of his house, after the clerk of a porn shop he frequented gave his name to Mackey.
When they took him to the Barn, Detectives Claudette Wyms and Dutch Wagenbach started questioning him. Adam denied having seen Jeffrey Cole or Lydell Crouch. When they kept pushing him about it, he asked for his lawyer. After some time waiting, Dutch told him he was allowed to go after being cleared out as a suspect. Adam took a taxi and returned to his home.
Some time later, someone knocked at the door. When Adam opened it, Jeffrey's father stormed in and started beating him. When the Strike Team intervened, Adam ended up confessing what had happened with Jeffrey. They then returned to the Barn. Later that afternoon, Claudette went to Adam's house and saw that he had been beaten up.
Appearances
Edit
Ad blocker interference detected!
Wikia is a free-to-use site that makes money from advertising. We have a modified experience for viewers using ad blockers

Wikia is not accessible if you've made further modifications. Remove the custom ad blocker rule(s) and the page will load as expected.