Aaron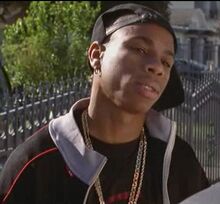 Appeared in
{{{Appearances}}}
Mentioned in
{{{Mentioned}}}
You may be looking for attorney Aaron Hamad.
Aaron was one of Rondell Robinson's dealers.
When things heated up between Rondell and T-Bonz, Vic Mackey asked Rondell to get all his men from the street until things cooled down. However, he still caught one of his dealers walking around. Mackey stopped him and when he told him Rondell hadn't stopped him, he got angry.
Appearances
Edit
Ad blocker interference detected!
Wikia is a free-to-use site that makes money from advertising. We have a modified experience for viewers using ad blockers

Wikia is not accessible if you've made further modifications. Remove the custom ad blocker rule(s) and the page will load as expected.