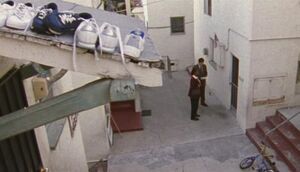 960 Chester Avenue was the address of some apartment projects where Earl lived in the 1940s.
Detectives Dutch Wagenbach and Claudette Wyms went to Apartment 16 after Craig Dawson called them that an ill, elderly woman had come by her door trying to open it and asking for Earl.
Even though it is said twice that Craig Dawson's apartment is Apartment 16, the number beside his door is 1427.
Appearances
Edit
Ad blocker interference detected!
Wikia is a free-to-use site that makes money from advertising. We have a modified experience for viewers using ad blockers

Wikia is not accessible if you've made further modifications. Remove the custom ad blocker rule(s) and the page will load as expected.