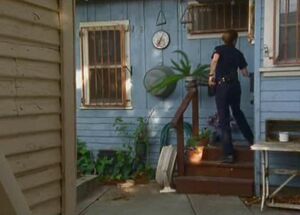 8811 Lorraine was Betty's address. Her house was located in The Grove neighborhood in Farmington.
Betty called 911 after her daughter left and she was unable to take her arthritis medicine. She told the operator that she was "dying". Officers Danny Sofer and Julien Lowe responded to the call fearing that it might be another ambush because her house was located near the place where Officer Rudy was killed the previous night. However, after they arrived, they found out that it wasn't an ambush.
Appearances
Edit
Ad blocker interference detected!
Wikia is a free-to-use site that makes money from advertising. We have a modified experience for viewers using ad blockers

Wikia is not accessible if you've made further modifications. Remove the custom ad blocker rule(s) and the page will load as expected.